Light/Installation
Laura is interested in the ways we, as groups or individuals, visually experience a space through light and perspective
2018 / London
Brunel Museum Grand Entrance Hall
An immersive performance of two 20th-century pieces of music for ensemble and vocalists based on texts by Plato, performed in the world's first underground watertight cylindrical structure.
CAVE was performed on March 11th, 2018 in the Brunel Museum Grand Entrance Hall, wherein an ensemble of 40+ musicians performed Socrate (1918) by Erik Satie and De Staat (1976) by Louis Andriessen (both featuring texts by Plato).
Designed by Isambard Brunel, the chamber is the world's first caisson and functioned as the entrance hall to the first underwater tunnel in the world - the Thames Tunnel - effectively the birthplace of the modern metro system. When it opened in 1843 it boasted a million visitors in the first three months. The chamber is half the size of Shakespeare's Globe, approximately 50ft in diameter and 50ft deep, with smoke-blackened brick walls from steam trains. After 150 years sealed off, the space was made accessible to the public by TATE HARMER architects just a few years ago.
Lighting and staging for CAVE was directly inspired by the story of Plato's Allegory of the Cave. The event featured silhouetted vocalists standing on stair platforms, model trains with LED's rigged to them to create a revolving shadow play, and a ring of red LED lights lining the smoke blackened walls - encircling the performers and audience - timed to music cues.

Artistic Team:
Music Director - Eli Brown
Producer / Production and Lighting Designer - Laura Hilliard
Associate Designer / Visual Artist - Sam Schanwald
Documentarian - Yuta Koga
CAVE was developed out of a workshop co-taught by Hilliard and Brown at the GAKKO Project in summer 2017 in Burgundy, France (that workshop pictured bottom right).
CAVE is the first public performance event put on by cinematographer/production and lighting designer, Laura Hilliard, music director/conductor/trumpeter, Eli Brown, and theater-maker/stage designer/visual artist, Sam Schanwald. Together they form a co-lab-oratory, telling timely stories in unusual places with music and more.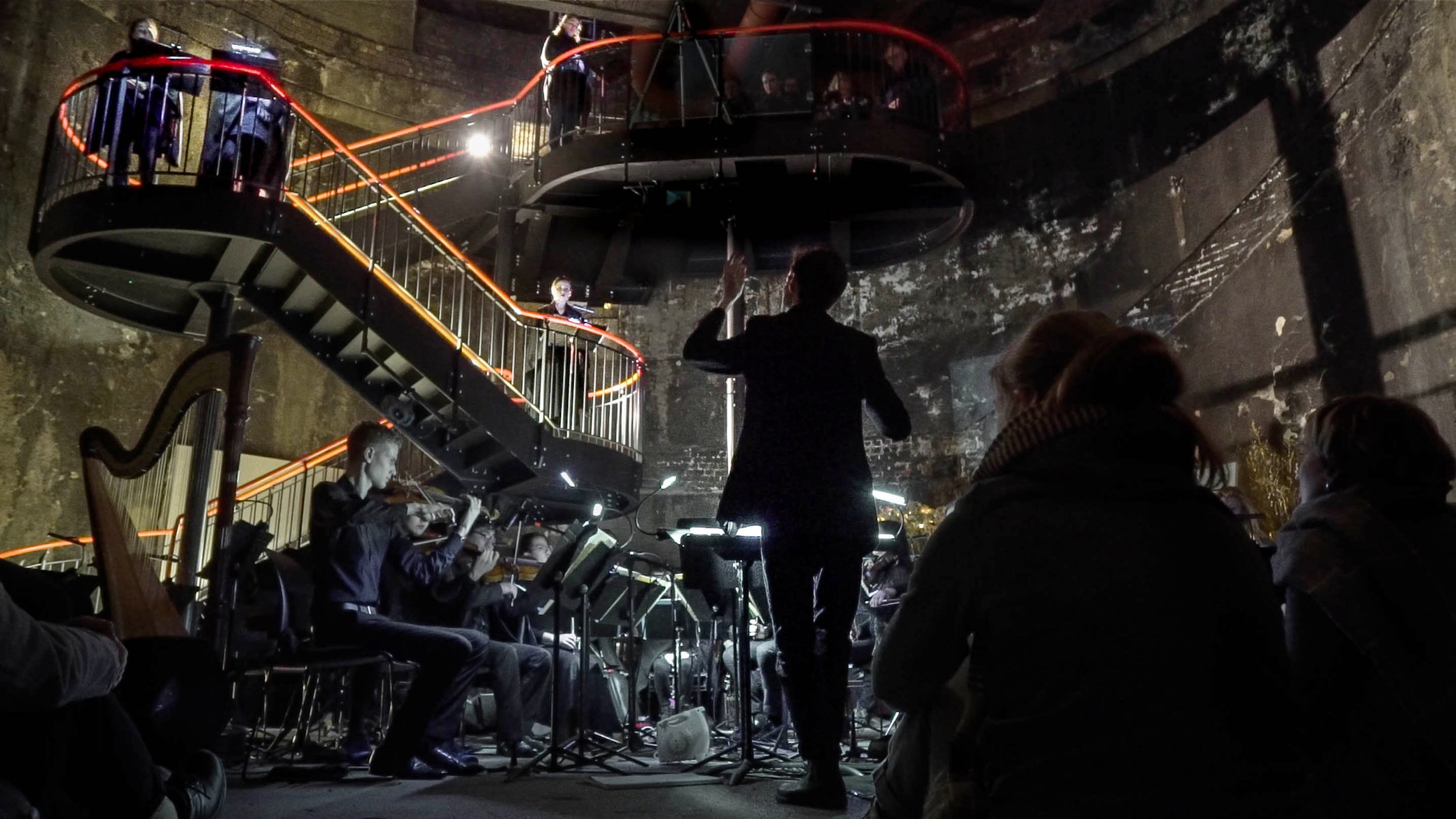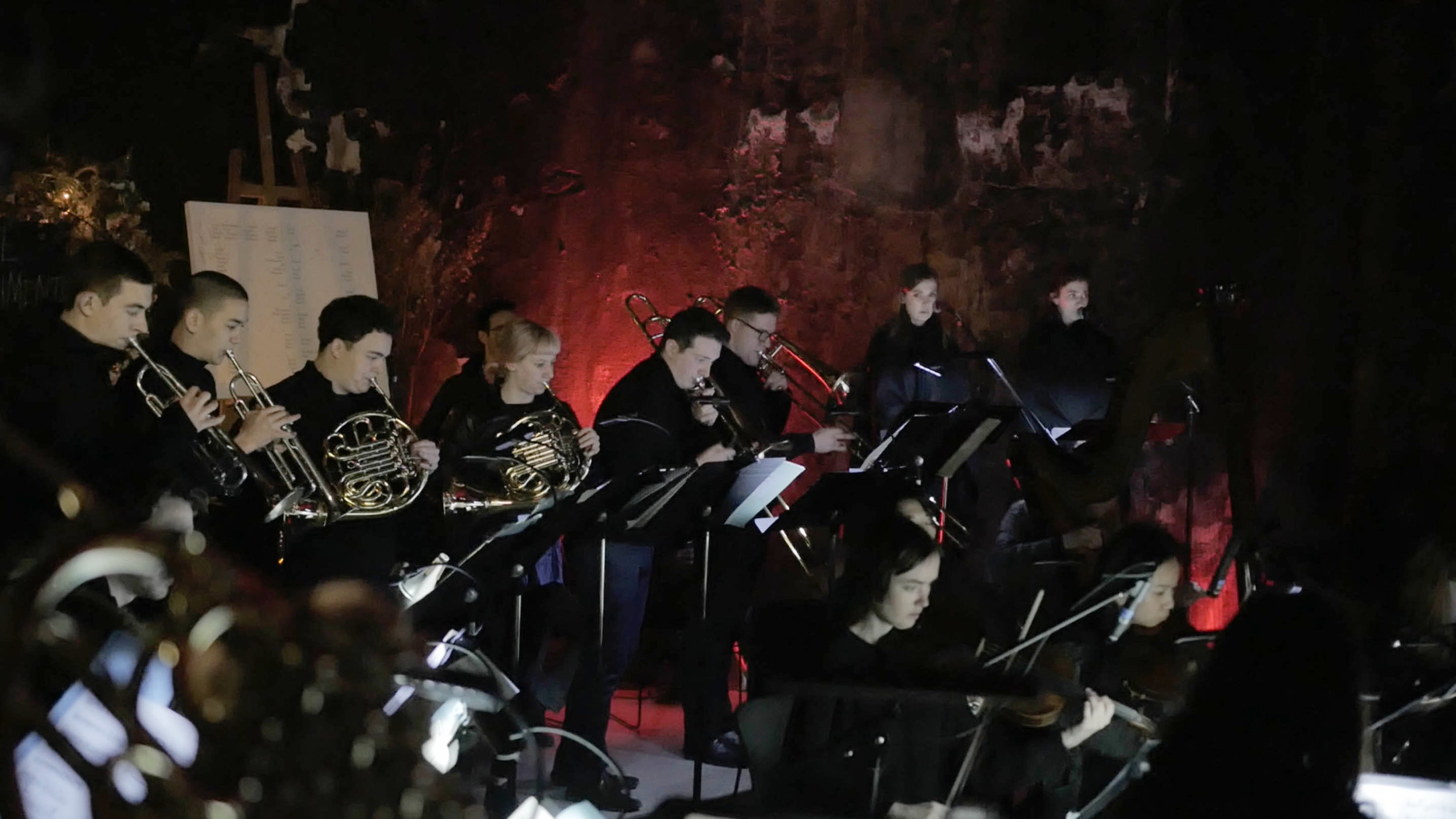 2017 / Forest Village, Chiba, Japan
A remote (accessible by 20 minute hike) outdoor amphitheater lit by solar power and candle light.
Working from the tradition of the quaker meeting, the soundscape of the forest surroundings, and the simplicity of the log stump, this sustainable gathering space encouraged radical listening among community members.
Created in Collaboration with Eli Brown, Leyla Levi, and the participants of the 2017 GAKKO PROJECT.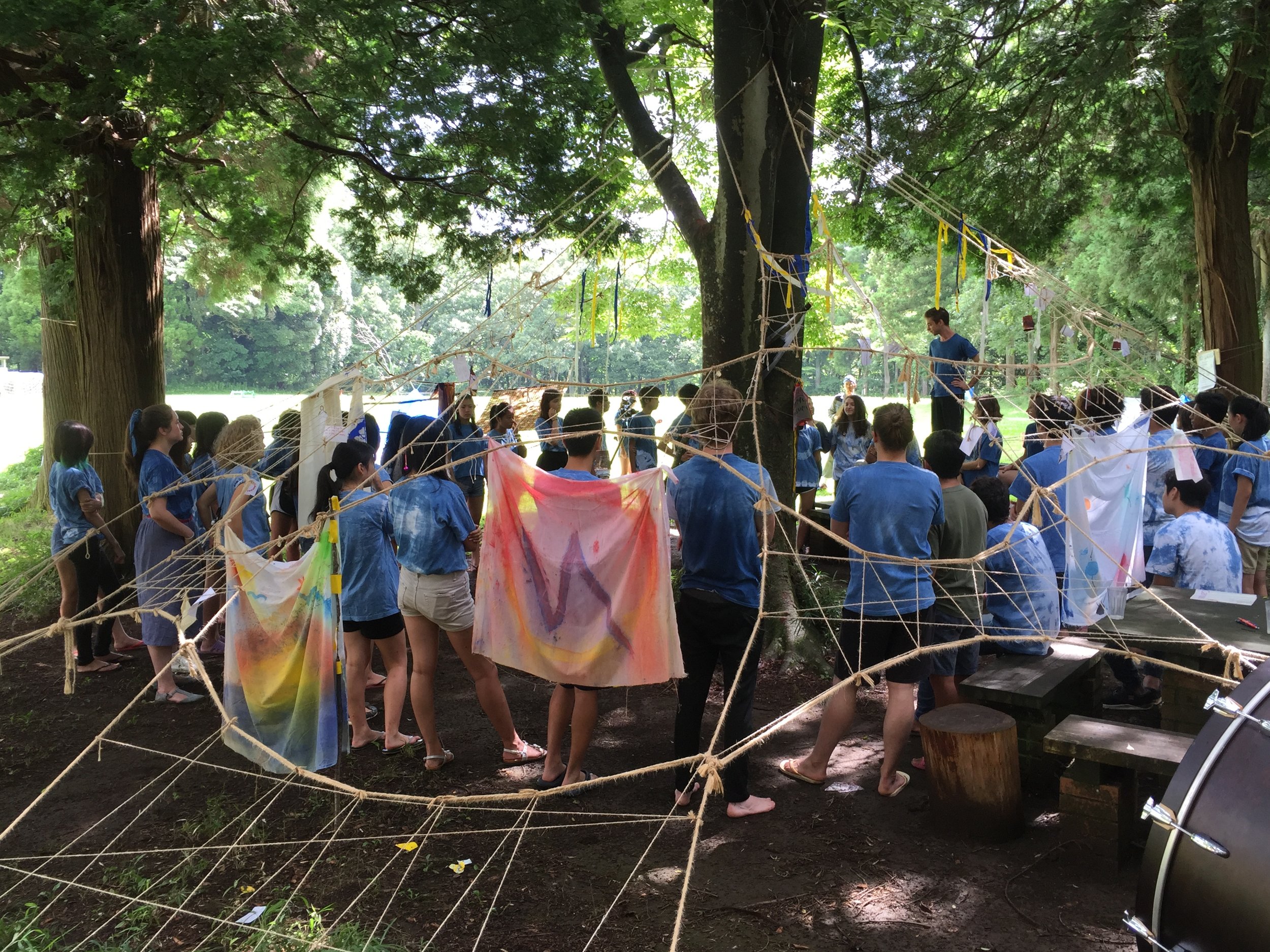 2016 / Forest Village, Chiba, Japan
A woven rope, twine, and tree installation space.
Drawing inspiration from Geodesic Domes, the Japanese Tanabata Festival, and the Burning Man Temples created by David Best, The Nest functioned as an ever evolving community monument and gathering point. This installation was ceremoniously deconstructed and burned to signify the closing of the 2016 Gakko Camp.
Created in collaboration with Yuta Koga and the participants of the 2016 GAKKO PROJECT.